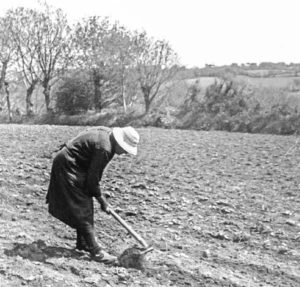 Anjela Duval was a woman who, during the day, cultivated the land of her small farm, Traoñ-an-Dour, and who, every evening, took her books and wrote poems. Those poems are now some of the most liked ones in the Breton language. The Breton language was her first and everyday language, and she learned the literary version of it. She enriched it with her own words and her sensibility. Her poems reveal a lucid love of nature, a rage against the organized decline of the Breton language, her anguishes, and her sense of humour…
MIGNONED ANJELA is celebrating 20 years of work!
For this 20th anniversary we have something special in store!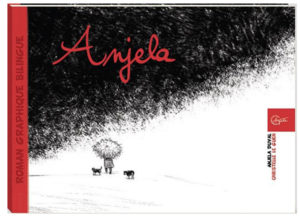 For all to enjoy, we are about to publish Anjela, a beautifully produced cartoon, designed to give life to Anjela's very own words in Breton and French, thanks to the sleek and poetic style of graphic artist and cartoonist Christelle Le Guen. Discovering Anjela's world for the first time or reentering it through her witty lines one more time, you'll find her true to herself, surrounded by her loved ones, stargazing, feet grounded in her beloved Tregor.
In this 100 + pages book, Anjela will talk you into her love for Brittany, Breton language, her native tongue, and how much she cares for country life style as well as for the simple people around her. At each turn of a page, from her poems, interviews or correspondence, Anjela is still inspiring you through her fierce determination, you'll feel the genuine lively spirit she is and be moved by the relevance of all she says to our world.
Make yourself, friends and family a favor: get your copie(s) of Anjela!
Give us a decisive support! Your early purchase will allow our small team of volunteers to help finance the publishing endeavor "Anjela" represents and you'll get Anjela in September 2018, before it will be available in bookstores.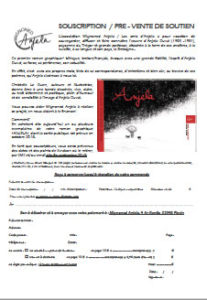 You may send your purchase order to: Mignoned Anjela, 4 ar Genkiz, 22340 Plevin, Brittany, France. International payment by wire transfer only.
 Please use the references and following codes to process your payment through your bank:
To: Mignoned Anjela

IBAN : FR76 1558 9297 0303 4886 0724 404 BIC : CMBRFR2BARK
Your help and support is very much appreciated!
Please share far and wide!